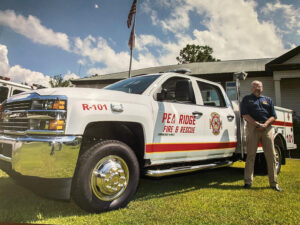 Alan Picklesimer, 67, of Montevallo, Alabama passed away Thursday evening, April 22, 2021.
Alan was born on November 16, 1953 to Marion (Pic) and Mary Frances Picklesimer, in Knoxville, Tennessee.
Alan attended Thompson High School where he met and later married his wife, Mattie Standifer Picklesimer. After graduation Alan joined the United States Army for four years, serving with the 101st Airborne, with an Honorable Discharge as a Sergeant.
After completing his military service, Alan, Mattie, and son Jason made their home in Montevallo, Alabama.
Along with his lengthy career as a Project Manager at O'Neal Steel and AT&T, Alan enjoyed his hobby as an amazing craftsman wood worker.
Alan's compassion for others led him to volunteer with the Montevallo Fire Department and the Pea Ridge Fire Department, where he served at one time as their Chief.
Alan Picklesimer was preceded in death by his parents, Marion (Pic) and Mary Frances Picklesimer, his brother Russell Shearer, and his beloved wife Mattie Standifer Picklesimer.
Left to cherish his memory; son, Michael Jason Picklesimer; daughter-in-law, Anna Blackmon Picklesimer; grandsons, Garrett Picklesimer and Wyatt Picklesimer; sister, Judy Belitz; sister in laws, Martha Kelly (Lanny), Margaret Bishop (Spud), Fran Massey (Kenney); and a host of nieces, nephews and close friends.
Visitation will be held at St Thomas Catholic Church in Montevallo (80 St Thomas Way), April 28, 2021 from 10:00 am–11:00 am, with a service to follow at 11:00 am. A graveside service will follow at the National Cemetery, Montevallo, AL, at 12:30 pm.
In lieu of flowers, the family has asked to please make donation to:
St. Jude Children's Hospital
262 Danny Thomas Place
Memphis, TN 38105
Affinity Hospice
216 Aquarius Drive
Suite 306
Birmingham, AL 35209