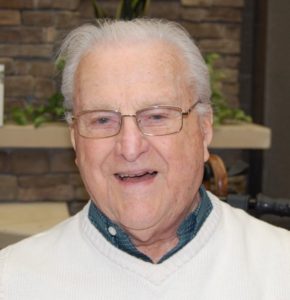 William Burton Fravert
October 28, 1921 – May 31, 2018
William "Bill" Fravert passed on May 31, 2018 at the age of 96 at his home. Mr. Fravert was born in Louisville, KY and graduated from Anchorage High School in 1939. He attended the University of Louisville where he was a member of Tau Kappa Epsilon. As a member of "The Greatest Generation", he entered the U.S. Army Air Corps and served as a radio operator in India during WWII. Following his military service he returned to University of Louisville graduating with a B.A. in Business in 1949. Bill was a proud member of the Hunters Club in Louisville, a social club made up of WWII veterans. In 1950 he married Warren Nadine Auter and they lived in Louisville until 1962 when they moved to Columbus, OH. In 1974 they relocated to Birmingham, AL to work for Willings Detroit Diesel where he worked until his retirement.  Bill enjoyed playing golf as a member of Chace Lake Country Club.  Bill & his wife moved to Danberry in Inverness in 2013 where they enjoyed many new friends and various activities.
Mr. Fravert was predeceased by his parents, William Arthur and Agnes Burton Fravert, his sister, Virginia Fravert and his brother, John B. Fravert. He is survived by his wife of almost 68 years, Warren A. Fravert, three children, Gail F. Willis (Royce), W. Craig Fravert (Cindy) and Keith E. Fravert (Karen); grandsons, Brett L. Amburgey (Holly), Drew, Evan & Reid Fravert; Patrick (Brandi) & Chris Willis, five great grandchildren and a sister-in-law, Mary Fravert.
There will be a private family service and Celebration of Life at Danberry with future interment at the Alabama National Cemetery. Special thanks and appreciation to the kind and compassionate caregivers from Oasis Hospice and Home Care Associates.