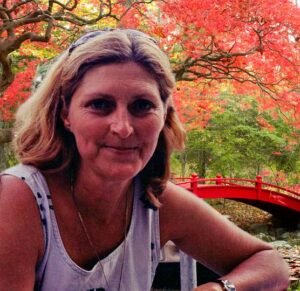 Wanda Jean Simmons, age 66, passed away on November 4, 2021. A celebration of her life will be held on Thursday, November 11, 2021 at Fultondale Campus-Church of the Highlands.  The Family will receive friends at 2:00 pm. She was a loving and devoted Mother, Mimi & Sister.
Wanda was born in Bessemer, AL where she attended McNeil Elementary School and later moved to Margaret, AL where she attended St. Clair County High School. She earned her degree in Interior Architecture and Design from Jefferson State Jr. College. Wanda held many jobs but her most loved and rewarding was working as a substitute teacher where she aided children with special needs. She sang in the choir at Fultondale First Baptist Church for many years, where she also kept children in the nursery.   She used her many decorating talents to design and create jewelry. She would give a necklace to anyone to brighten their day and she fostered creativity in her children and grandchildren. She had a big, soft heart for all animals.
Wanda is survived by her daughters, Dana Harmon (Eric) and Briana Mays (Derek); her grandchildren, Addison Harmon, Ashton Harmon & Ariana Walls; sisters, Carol Sue Carroll (Steve) and Gail Simmons Karr (Palmer). She was preceded in death by her sons, Mark Anthony Simmons and Alexander Mays, parents, Henry Kirby Simmons, Max Garson Nabors and Jessie Beatrice Nabors; brothers, Harold Joseph Simmons, James Leonard Simmons (Pam), Billy Ray Simmons (Peggy), Henry Kirby Simmons, Jr., Johnny Wilburn Nabors; nephews, Rodney Carroll, Michael Carroll, Kenny Simmons, Troy Simmons; and nieces, Cristina Shatto, Melessia Carlton and Miranda Simmons;
She also leaves behind nieces, nephews, and cousins whom she loved dearly.
In lieu of flowers, the family asks that donations be made to your favorite charity in her name