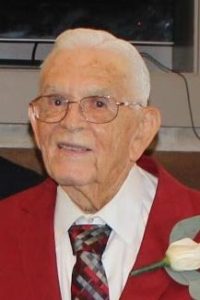 GRUBBS, Thaddeus "Buddy", age 92, of Alabaster, Alabama, passed away peacefully in his home with family by his side, on August 28, 2019. He was a devoted father, grandfather, and great-grandfather. He was reunited with his wife of 65 years, Hazel V. Grubbs, where together they are dancing and singing the praises of God our Father.
     Mr. Grubbs was born on February 7, 1927 in Siluria, Alabama. As a young husband and father, Thad worked hard at whatever he needed to do to support his family: working in a coal mine, in a cotton mill, and as a mechanic at a car dealership. As time progressed, he decided livestock farming suited him best. He made sure his family was NEVER hungry.
     Mr. Grubbs enjoyed many things throughout his life. Playing the guitar and singing was one of his favorites. In addition, he enjoyed inventing and building things, such as a windmill to produce electricity in several rooms of his house and an exterior coal-burning stove that piped into the ductwork to heat his entire house. Last, but not least, he was a master at loving his children, grandchildren, and great-grandchildren.
     Mr. Grubbs is preceded in death by the following: parents, wife, Hazel V. Grubbs, six sisters, Florence, Pauline, Estelle, Nellie, Charlene, and Jacqueline, and one brother, Robert. He is survived by his six children: Billy Wayne (Mary) Grubbs of Lexington, KY; Roger Grubbs (Debra) of  Millsboro, DE; Ray Grubbs (Wanda) of Alabaster, AL; Darlene Grubbs of Bessemer, AL; Susie Price (Micky) of Calera, AL; and Jim Grubbs (Dana) of Walkertown, NC. Also surviving are his 13 grandchildren, 17 great-grandchildren, several nieces and nephews, and a host of friends whose lives bear witness to the kindness and generosity of their beloved friend.
Visitation will be held on Tuesday, September 3, 2019, 10:00 AM – 12:00, with Funeral Services at 12:00 PM, at Charter Funeral Home in Calera, AL. Graveside Services will be held at Shelby Memory Gardens in Calera, AL. immediately following.
The family requests that donations be made to either Alabama Baptist Children's Home or St. Jude Children's Research Hospital. Flowers are accepted, should you prefer.
The family respectfully wish to extend appreciation to the staff of Comfort Care Hospice and Middlebrooks Caregiving Services, especially Deborah Stone and Deidre Middlebrooks, for their love and care.