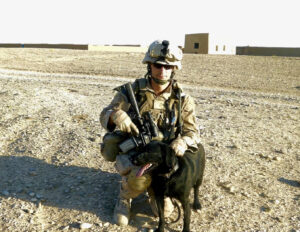 Sean Patrick Sullivan (32) quietly passed away in his Birmingham, Alabama home on March 21, 2022.   Sean was born in La Mesa, California.  He graduated Woodland (California) High School in 2008.  Sean was a member of the FFA, raising goats for sale, and learned to weld.  Sean had a spark for international adventure, selecting his family's travel destinations and initiating their participation in the foreign exchange program.  Julian Goldhahn, a foreign exchange student from Germany, became Sean's "bruder" for life.  Sean spent the summer following graduation with his new German family.
Before he graduated, Sean had enlisted in the United States Marine Corps.  Sean was attached to the 1st Battalion, 9th Marines, "The Walking Dead", at Camp LeJeune, NC as a Mortarman.  Sean's unit first deployed in 2010 as part of "Operation Unified Response" where they facilitated aid to the people of Haiti following a devastating earthquake.  This deployment continued to the Indian Ocean where Sean trained and stood ready to support combat efforts in Afghanistan and Iraq. In preparation for his second deployment, Sean's love of animals showed through, as he volunteered to become a dog handler.  Sean handled Gigi, a black lab trained to detect IED's, for her fifth deployment in a warzone.  As part of "Operation Enduring Freedom" Sean and Gigi deployed to Afghanistan. They were assigned to a patrol base in the Helmand Province where they performed daily patrols alongside an Afghan military unit.   Sean and Gigi returned home on Christmas day, 2012.  Gigi was "retired" from active duty and Sean adopted her.  Sean's second billet was to the Marine Corps Security Force Guard in King's Bay, Georgia. Cpl. Sean Sullivan Honorably Discharged from the Marines in 2016.
Sean became a certified welder and worked at the Trident Retrofit Facility in King's Bay. He left to fulfill a commitment to himself and his family to earn a college degree.   He enrolled in the University of Alabama.  Sean graduated in 2020 with a bachelor's degree in Business.  Sean briefly moved to Boston but longed to be back in the south.  He returned to Alabama in 2021.
Sean was preceded in death by his beloved Gigi in 2021.  He is survived by his "baby" sister Alyse of Nashville, TN; his loving mother Holly, and father Carey, of Vancouver, WA; and grandmother Joann Anderson of Battle Ground, WA.  He has many aunts and cousins that loved him in San Diego, CA. Sean will be interned with military honors at the Miramar National Cemetery on Thursday, April 28, 2022 at 9:30 am.  Services are being coordinated by Charter Funeral Home of Calera, AL.
In lieu of flowers the family ask you please consider a donation to Mission K9 (https://missionk9rescue.org/donations-to-mission-k9-rescue/), an organization that finds home for retiring "war" dogs.
"Ooh Rah" and "Roll Tide" to you Sean!