Robert Bernis (Bob) & Mary Lois Jones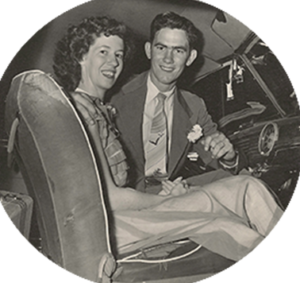 Robert Bernis Jones, 91, passed away November 23, 2021. Robert, better known as Bob to his friends and loved ones, was born on April 25, 1930, to Annie Lee and Fred Jones. He was preceded in death by his wife, Mary Lois Jones, 91, who passed away on May 30, 2021. Mary Lois was born on March 28, 1930 to Agnes Viola and Claude Harbison. She is survived by her brother, Douglas (Shari) Harbison. Both Robert and Mary Lois passed peacefully at their home in Shelby. It was Mary Lois' desire to be buried with her husband and that their lives be celebrated together.
They are survived by their son, Jefry H. Jones (Paige) of Hoover, AL; daughter, Michelle Jones Miller (Tony) of Sylvan Springs, AL; two grandsons, Jonathan Jones (Becky), and Alex Jones (Anna); three granddaughters, Chelsie Miller, Samantha Miller Phillips (Andy), and Kryssa Miller; and four great-grandchildren. They are also survived by a beloved nephew, Brian Harbison, and his wife, Sothonn and their children, Kiera and Katherine, who all held a very special place in their hearts.
The tale of Mary Lois and Robert Jones is one of extraordinary love and faith. Bob and Mary were married August 2, 1952. Bob joined the navy in 1950 during the Korean War and was honorably discharged in 1954. He then began working his way through college. He graduated from the University of Alabama in 1961 and became a CPA after passing his CPA exam on his first try. Bob went on to build a multi-million-dollar corporation from a company on the verge of bankruptcy. Mary Lois was always at his side through all business and personal endeavors. Bob and Mary Lois never forgot where they came from and treated everyone the same, regardless of financial or social status. When they had to retire, Mary Lois devoted herself to taking care of Bob and Bob, in turn, did his best to take care of her.
They will be laid to rest together in the Alabama National Cemetery in Montevallo, AL, on Tuesday, November 30. at 11:45 am there will be a committal service at the cemetery.
Their love story lives on as their earthly bodies lie together and their heavenly bodies rejoice in heaven. Heaven has gained two wise, loving, caring souls that left a positive footprint on earth. In memory of them, we ask you to "Pay it forward" in any way you can.