Kenneth Harold Waltsgott, Sr.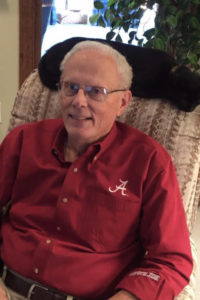 Kenneth Harold Waltsgott, Sr.
January 25, 1946 – June 1, 2018
Mr. Kenneth Harold Waltsgott, Sr., of  Alabaster, AL, born on January 25, 1946 in Detroit, Michigan, to the late Doris Ruth and the late William Carl, passed away at age 72 on June 1, 2018. He was in the Food Industry at J.M. Jones, SupeValu in Illinois & Brunos Supermarkets in Birmingham, AL as their Director of Human Resources until retiring in 2008. Kenneth was the loving husband of Marilyn Grace (Hotchkiss). He was preceded in death by his brother, William Fred. Kenneth is survived by his sons, Kenneth H. Jr. (Barbara) and Matthew W. (Shannon); grandchildren, Cameron Matthew, Connor Michael (Kaitlyn Jokisch), Kenneth H. III (Harry), and Colin William; and great-granddaughter, Aubrey Jean. Kenneth enjoyed golf, fishing, trap shooting, trains, stamp collecting, and a passion for Boy Scouts of America and belonged to the Knights of Columbus at St. Thomas Catholic Church. Donations in Kenneth's name to Boy Scouts of America Troop 40, C/O Gregg Knott, 1377 Co Rd, St. Joseph, IL 61873 are welcome and appreciated. Friends and family members may attend the visitation on Saturday, June 16 from 10:00 to 11:00 a.m. at St. Thomas Catholic Church, 80 St. Thomas Way, Montevallo, AL, 35115.  Funeral Mass 11 am and luncheon following. He was a master collector of many things and his 28 years of dedication to the Boy Scouts of America was his passion.