Kenneth  E. "Kenny" Stamps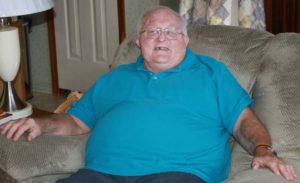 Kenneth  E. "Kenny" Stamps, 70, went to his heavenly home on March 5, 2018. He was surrounded by his family and friends. Kenny was best known as "Honey", "Daddy", "Brother", "Pawpaw", "Uncle", and "Meat Man". To know Kenny was to love him.
Kenny was born in the Camp Branch community and spent his life living in the Saginaw area. He was a butcher by trade beginning at the young age of 15 until his retirement at 65. His greatest strengths were his selflessness and the love he showed to all people. He will be remembered for his incredible ability to encourage others as well as his wit and humor. More importantly, Kenny was known for his love of his Lord and never came in contact with anyone with whom he did share his love for the Lord. Kenny taught Sunday School for the majority of his adult life. He and Gayle are members of the Branch at Mission Hills Church.
Kenny was preceded in death by his parents, Tom and Bee Stamps; a son, Rodney Cook; sister, Tommie Jean Lee; brother, Thomas Ross "Peewee" Stamps; and in-laws, Marvin and Clemie Robertson.
He leaves his loving wife of 28 years, Gayle Stamps; daughters, Bridget and Tammy Stamps, and Melinda Driggers (Rodney); daughter-in-law, Kim Cook; sons, Kevin Stamps and Keith Cook; grandchildren, Chase Stamps, Ashlynn Stamps, Trenton Garcia, Jayden Garcia, Shea Driggers, Laci Stokes (Eric), Chad Driggers (Danielle), Crystal Cook, Brittany Cook, Michael Cook (Miranda), Drew Cook, Dylan Cook, Jonathan Cook; 14 great-grandchildren; and numerous nieces and nephews.
He also leaves behind his baby sister, Mary Rose Rafferty (Teddy); sisters-in-law, Marlynn Howard (Ray), Brenda Wheeler, Becky Robertson, Theresa Brasher; and brother-in-law, Onnie Lee.
Kenny will be loved and missed by many friends, especially his friend from childhood, Greg Roach.
The funeral service will be held at Charter Funeral Home on Thursday, March 8. Family visitation will be at 1:00 PM, friends will be received from 1:30-2:30, with service following. Interment will follow at Nabors Cemetery.
The service will be officiated by his nephew, Chris Rafferty, and pastor, Brook Lovett. Pallbearers are Chad Driggers, Chase Stamps, Trenton Garcia, Eric Stokes, Drew Cook, Dylan Cook, Michael Cook, and Jonathan Cook.
A special thanks to New Beacon Hospice for their professional and loving care during this difficult time.