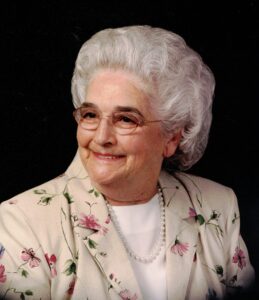 Kate Hubbard Cook, age 89 of Centreville, Alabama went to be with the Lord on Saturday, April 3, 2021. Mrs. Kate owned and operated the Dairy Queen in Brent for 35 years. She will always be remembered for the way she made her Chili Dogs, Banana Splits, and your favorite food of choice that was always made with love.
Mrs. Kate was preceded in death by her loving husband, Rudolph Cook; parents, Divit and Myrtle Hubbard; daughter, Susan Anette Cook; sisters, Wilna Steele, Ellen Rowland, and Willa Mae Hubbard; brother, Warren P. Hubbard; three grandchildren, and three great-grandchildren.
Her surviving relatives are sons, John Barry Hubbard, Charlie Cook (Rhonda), and M.R. Cook (Kay); daughter, Barbara Simpson (Clay), and Mary Ann Kornegay (J.W.); 14 grandchildren and 27 great-grandchildren; sister, Shelby Hubbard.
Her services will be held on Tuesday, April 6, 2021 at Gospel of Grace Community Church in Brent, Alabama starting at 1:30 p.m. Time for visitation will begin at 12noon until her service time with Pastor Tim Simmons officiating. Burial will follow in Haysop Cemetery Centreville, Alabama. Pallbearers will be Don Hubbard, Sammy Hubbard, Gene Cook, Clay Simpson, Randy Moses, and Billy Steele. Charter Funeral Home in Calera, Alabama will be handling her arrangements.