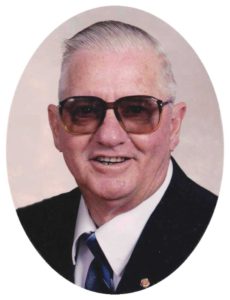 James E. "Ed" Johnson
March 23, 1927 ~ July 9, 2018
     James E. "Ed" Johnson, age 91, of Calera, Alabama passed away on Monday, July 9, 2018 at his home.
     Ed served in the Navy and retired from Birmingham Police Dept.
     He was preceded in death by his wife, Annie P. Roper Johnson and his parents, James Walter and Loney Estelle Reid Johnson, a brother and four sisters.
His survivors include his daughters, Mary Ann Aycock (Robert) of Calera, AL.  and  Lynne Fayet of Atlanta GA ; grandson, Justin Fayet of Helena, AL; a sister-in-law, Wynell Cochran (Donald) of Graysville, AL  and numerous nieces and nephews.
      Visitation will be held on Thursday, July 12th, 2018 from 5:00 to 7:00 PM  at Charter Funeral Home.
    In lieu of flowers the family request that donations be made to your favorite charity.