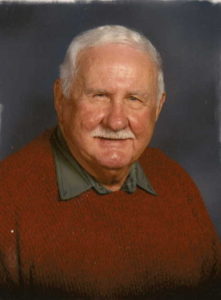 The Honorable, George William Roy Sr., long time mayor of Calera, Alabama, made his peaceful transition on Saturday, July 13, 2019, surrounded by those he loved. He was born in Helena, AL, on February 10, 1928 and moved to Calera after the death of his father in 1933. He joined the Navy in 1944 at the age of 16 and served his country in the Philippines in the 5th Fleet aboard the YG30 where he eventually became commander of the ship. Once the war was over he returned to Calera where he completed his education and met and married his "sweetheart", Elizabeth Marie Tomlin, on June 12, 1948. He soon became a respected member of the community and was elected as a City Council Member in 1960 and became mayor in 1966 where he continued to selflessly serve his community for over 36 years.
Though he was an accomplished public servant and World War II Veteran, his proudest accomplishment was his family. He once said that the decision to marry Betty, his wife of almost 70 years, and start his family was the best thing he ever did. The love he had for his family, and they for him, was evident up until his last breath. He loved to a fault, and this love and leadership kept the Roy family strong and united through both good times and bad. His passing is truly the end of an era and will leave a hole in the hearts of all who knew and loved him.
He was predeceased by his wife, Elizabeth (Betty) Tomlin Roy ; precious children, Betty Jane Edwards and "Little" George Roy, Jr.; son-in-law, Ricky Cairns; daughter-in-law, Joyce Roy; grandsons, Robert "Bo" Edwards, Jr. and Chris Roy; father, Colly Roy; mother, Clara Disney; step-father, Lige Harris; and sister, Mary Frances Ellerman.
Those left to cherish his memory include, daughters, Barbara Franks (Timmy), Doris Ann Sajpel (Wally); sons, James Richard Roy (De Ann) and Tommy Edwards (Courtney); 12 grandchildren filled with loving memories of our "granddaddy" with 20 great-grandchildren and 3 great-great grandchildren who we will share his stories with, as well as a host of nieces, nephews and cousins.
Visitation will be held at Concord Baptist Church on Tuesday, July 16 from 5:00-7:00 p.m.  Funeral will be held at Concord Baptist Church on Wednesday, July 17 at 11:00 a.m., Lonna Lynn Euler Higgs officiating.  Burial will follow in Shelby Memory Garden.