Elizabeth Ann Parry Patterson Carney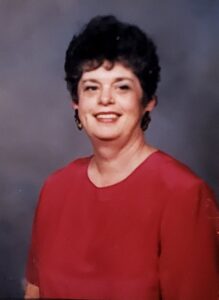 (1943-2021)
Elizabeth 'Beth' Carney passed away peacefully on October 24, 2021 at Shelby Baptist Hospital in Alabaster, Alabama, surrounded by her family. She was 78 years old.
Beth was born in 1943 in Joplin, Missouri, to Lieutenant Colonel Howell John Parry Sr. (R, US Army) and Hazel Leone Parry, who predeceased her in 2004 and 2010. She graduated from Presbyterian Junior College of Maxton, North Carolina in 1961 and from the University of Georgia, Athens, in 1964, majoring in Interior Design.
Beth enjoyed painting throughout her life.  Her business career was in retail store management for over 20 years, for Loveman's, Pizitz and McCrae's department stores throughout Alabama.  Along with her husband Frank, she co-managed their retail stores in the greater Birmingham area, before working as a banker at SouthTrust and Wachovia Banks until her retirement in 2008.
Beth was married to Lanier Patterson from 1964 to 1976, and was remarried to Frank Carney in 1995 until his death in 2010. She is survived by daughters Tracey Patterson (Stephen Sisk) of Calera, and Dina Patterson Holsomback (Jimmy Holsomback) of Montevallo, stepdaughter Laura Carney of Rochester, Minnesota, and Beth's brother Jack Parry of Annapolis, Maryland. She is also survived by her six grandchildren, Susanna and Adam Basappa, Promise, Polly and Jeremy Holsomback, and Ian Sisk.
Visitation will be held on Saturday, October 30, 2021 at 1:00 pm followed by the memorial service at 2:00 pm, at Charter Funeral Home in Calera, Alabama. Beth will be laid to rest alongside her husband Monday, November 1, 2021 at 1:15 p.m. at the Alabama National Cemetery.
In lieu of flowers, donations may be made in memory of Beth to the Diabetes Foundation or to the American Kidney Fund.