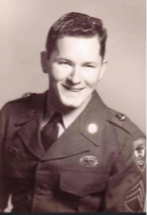 Edward Hilton Gardner was born Oct 5th 1934 in Siluria Alabama to Willie and Mary Grace (Hodge) Gardner. He attended Thompson High School until April 1953. He joined the Army where he spent 22 years serving his country. He had formal training as a Combat Engineer. But his love was being a Combat Infantryman (Airborne). Ed served in 82nd, Airborne Division, 11th Airborne, 101st, 173rd and 20th special forces. He had many adventures to include several Combat jumps, he was a Senior Drill Instructor and Master Parachutists. He attended Jungle Warfare school, Artic Warfare school and Desert Warfare school. Awards include Bronze Star, Purple Heart, Army Commendation Medal, Distinguished Service Medal, Parachutists Badge, Combat Infantry Badge and numerous other awards. He also graduated from University of Montevallo in December of 1979 with a Bachelors Degree in Business Administration.
He passed away December 26th at his home in Alabaster. Ed always had Lydia Marie (Poole) Gardner by his side. They were married for over 51 years and had 5 children.
He is preceded in death by his parents Willie and Mary Grace Gardner, sisters Audrey Gardner Fondren, Myra Gardner McFadden, Naomi Gardner Fondren.
He is survived by his wife Lydia Marie Gardner, children Mike (Leslie) Causey, Denise (Charles)Parker, Bryan (Diana) Causey, Tim (Amanda) Gardner, Robert (Robin) Gardner. His Grandchildren Breann (Jake) Rimington, Reid and Cole Gardner, Chandler Smith, Avery Dyer, Amanda (Alan) Martin, Josh (Brooke), Ashley, Victoria, Abigail and Morgan Causey, Shaun (Tamara) Abke. Great grandchildren Dylan, Hannah, Riley, Van, Isabella, Drew, Allie, Gracie and Aaron.
A special thank you to Affinity Hospice Services for their kindness and unwavering support during his transition.
                                  A graveside service for Edward will be held Wednesday, December 30, 2020 at Elliotsville Cemetery at 2:00 p.m.