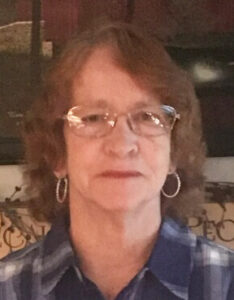 Doris Jean Gano of Columbiana, age 77, passed away peacefully in her sleep at home, on June 12, 2020.
Mrs. Gano was preceded in death by her husband, Greg Gano; parents, Herman Franklin McComas and Doris Catherine Adams McComas; and four of her siblings.
She is survived by her son, Michael Kistler  and her daughter-in-law, Shelley Kistler of Lancaster, Ohio; granddaughters, Brandy Kistler of Columbus, Ohio, Mandy Kistler of Colorado, Ashley Kistler of Mt. Vernon, Ohio, and Reva Kistler of Mt. Vernon, Ohio; sister, Joyce Wiseman of Columbiana, Alabama; brother Roger McComas of Charlotte, North Carolina; sister, Donna Antoniewicz of Elyira, Ohio; sister, Diane Atkins of Huntington, West Virginia; brother Delbert McComas of Columbus, Ohio; brother, Mike McComas of Columbus, Ohio; and brother Herman McComas of Live Oak, Florida.  She is also survived by numerous nieces and nephews.
Doris was born in West Virginia, were she lived in a log cabin until she was 5 years old.  She moved with her family to Ohio where she lived the majority of her life.  She met the love of her life, Greg Gano, in 1983.  Greg and Doris were married happily for 28 years and they loved riding their motorcycle and traveling in the camper. She worked in the textile industry for many years until she retired this year. Doris loved to spend time outdoors doing anything from fishing and camping to visiting caves and zoos.  Doris lived a simple life, but she was also a lady who loved to shop.  She enjoyed spending time with family and friends. She spent the last 30 years in Lancaster, Ohio, until she decided to move closer to her sister in Columbiana, Alabama a few weeks ago.  Doris will be dearly missed by her family and friends.