Donnie Joe "Duck" Robinson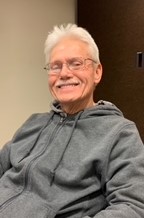 Donnie Joe "Duck" Robinson was born on December 23, 1952. As a child, he and his brother were inseparable and most thought they were twins. They enjoyed playing little league baseball and just rough-housing with their neighborhood friends. Both boys were adored and spoiled by their mother. She would even make them their own special dinners upon request. Roy Robinson was a contractor and didn't mind putting Duck to work on any day he may have some extra time.
Duck loved all sports but football, baseball, and track were his favorites. Instead of playing basketball, he became the statistician. This is when his wife, Wanda, entered his life. She was by his side to help him note every play. Duck and Wanda were high school sweethearts since the 10th grade. They were inseparable and married in 1972. His daughter, Micki, was born in 1975. She became his little princess. They spent every Saturday morning together when she was little. Most of the time, you could find them fishing or doing something outdoors. He also coached several of her softball teams and never missed a game. One of Micki's favorite memories is Thursday night "candy night". She and her daddy would have "candy night", and they would go to the local candy store. She would fill up a little, brown paper bag and then they would come home and share their treats. The bond they had was so precious.
His grandson, Keegan, was the light of his life. Duck was so excited to finally have a boy to join him on his hunting and fishing excursions. They had so much fun together. Duck loved fishing and all kinds of hunting, creating lifelong friendships and memories with many. He was known for his tender heart and never met a stranger. His smile and laugh were contagious. Most would say he was one-of-a-kind. Duck was always full of energy, and his love for his family and friends had no bounds.
Duck passed away with Wanda by his side on February 5, 2022.
He is predeceased in death by his Mother Emily Janette Robinson, Father Roy Robinson, and Brother Roy Lynn Robinson.
Duck is survived by his wife of almost 50 years, Wanda Jones Robinson, Daughter Emily "Micki" Robinson, Grandson Keegan Ethan Luisi-Robinson, Sister-in-Laws Phillis Popwell (Richard) and Suzanne Roberson (Jim), and several nieces and nephews.
Visitation will be at 6:00pm-8:00pm on Thursday February 10, 2022. A Celebration of Life will be at 11:00am February 11, 2022, held in the Charter Funeral Home Chapel in Calera, AL. He will be laid to rest at the gravesite in Shelby Memory Gardens, Calera, 35040 AL. Please join us after the burial at the Calera Community Center for lunch and fellowship.
In 'lieu of flowers please consider a donation in one of the two ways listed below:

| | |
| --- | --- |
| | Our precious friend, Wanda Jones Robinson, Calera High School class of 1972, lost … Anita Collum Winslett needs your support for Help Wanda begin her healing |

American Autoimmune Association

Flowers will be provided by Jemison Florist & Gift Shop