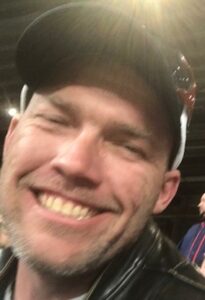 David Kelley, 40, passed away unexpectedly on Wednesday, July 27, 2022
David is preceded in death by his father J.W. Kelley and mother Deloris Kelley. He is survived by his wife Christy Kelley, two children Skilyn Kelley and Kailey Kelley, two sisters Marie Powell and Melinda Kelley, two brothers Tommy Kelley and Steve Kelley.
David was born and raised in Wylam, AL and spent the last 14 years living with his wife and daughter in Calera, AL.
To honor David's memory we are holding a casual celebration of his life Wednesday, August 3, 2022 at 4:00 pm at Charter Funeral Home in Calera. We invite anyone who knew David and would like to remember his wonderful life.