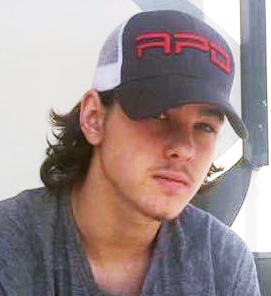 July 7, 1999 – June 1, 2020
Christian Whitten, age 20, of Alabaster, Alabama, passed away on June 1, 2020 in Pelham, Alabama.
Christian was born in Alabaster, Alabama to Shanda Whitten on July 7, 1999.  Christian went to school at Thompson High School and he was home schooled.  Christian was full of life, fun loving, and always making others laugh.  His heart of gold and protective nature made him who he was and was shown in every move.  Christian had many loves in his life, some of which includes his girlfriend of 3 years, Taylor Ray; and their dog, Veda.  He loved his family with all his heart and never left a visit or conversation without saying 'I love you'.  He loved riding his motorcycle, playing video games, and ice skating.  Christian will be extremely missed by so many. His memory will never fade from our minds and hearts.
Christian is survived by his mother, Shanda Whitten (Andy); brother, Grayson Whitten; grandparents, Jerry and Cindy Carter; girlfriend, Taylor Ray; aunt and uncle, Cindi and Brett Cofer; cousins, Blade Thompson and Sky Cofer, along with many others.
Visitation will be 11:00 a.m. to 12:00 p.m. on Thursday, June 4, 2020 with a funeral service held at 12:00 p.m. in the chapel of Charter Funeral Home in Calera, Alabama.
 A graveside service will follow in Union Grove Cemetery in Jemison, Alabama with Brother Joe Coley, and Brother Lynn Hitt officiating.
Pallbearers will be:
Brett Cofer, Blade Thomspon, Grayson Whitten, Paxton Ray, Johnathan Parten, Easton Ancelet