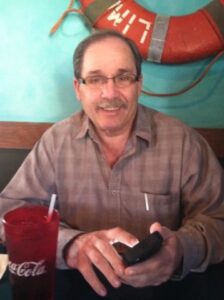 Charles Allen Sampson, 68, of Calera/Montevallo, AL. Feb. 16, 1953 – July 22, 2021. Born in Glendale, WV formally of Moundsville, WV.
In 1971 he moved to Childersburg, AL and married Teresa Grice Sampson. They were married almost 50 years and have 2 daughters.
He was a very talented guitarist. Owned Sound Stage Music of Calera with a recording studio. Charlie retired from Shelby County Board of Education as maintenance engineer for Calera High School. Most recently the owner of Discount Charlie's in Montevallo. He travelled the country playing music in his earlier years.
After a long battle with Large B Cell Lymphoma he has gone on to a better place.
Charlie was preceded in death by his parents, Helen and Earl Sampson and brother, Richard Sampson of Moundsville WV.
He is survived by his wife, Teresa Grice Sampson; daughters, Carly (Matt) Pair and Stacy Godfrey; granddaughters, Lauren Fields (Sheldon) and Ashley Byrd; grandsons, Reese, Ryder, and Ronin; great granddaughter, Josie Byrd all of Calera, AL; sisters, Margaret Richmond, Judy Sampson; and sister in law, Marlene Sampson all of Moundsville, WV; and a multitude of dear friends, the dearest being Timmy Franks.
There will be a Celebration of life held in the Charter Funeral Home Chapel, Thursday, July 29, 2021. Visitation will be held from 6 pm to 8 pm, with a service held at 8 pm. The family request that masks are to be worn for the services.