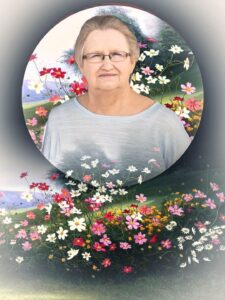 Carolyn Cox Smitherman, age 66, went home to be with the Lord, surrounded by her family Sunday, May, 16 2021.  A visitation will be held Thursday, May 20, 2021 at 10:30am.  A memorial service will follow at 11:00 am in the Chapel at Charter Funeral Home officiated by Bro. Tim Trimble.  The burial will take place at the Alabama National Cemetery privately the same day.
She is preceded in death by her parents, Albert Lloyd Cox, Jr. and Fannie Mae Eiland Cox; loving husband of nearly 40 years James Douglas Smitherman.
She is survived by son, James Matthew Smitherman and wife Tiffany Smitherman of Maylene, AL; daughter, Ryan Smitherman Hill of Maylene, AL; sisters, Violet Beasley of Alabaster, AL, and Sharon Lynn Cox and husband Charles of Georgia; brothers, Billy Cox of Columbiana, AL and Lamar Cox and wife Lucy Cox of Fayette, AL; granddaughter, Charlotte Rowe; and a host of other family members and friends.
Carolyn was born in Rock Island, IL in 1954.  She was married to her best friend James Douglas Smitherman in the 1970's, and they were each other's rock for nearly 40 years. She loved simple things in life such as a beautiful rose in a colorful garden, or a well crocheted afghan. She had a wonderful relationship with God, and is smiling down at us from Heaven for being able to finally meet him in person.  Family was very important to Carolyn, and on holidays you could count on finding her cooking up a well-prepared meal for them. She enjoyed spending time with her son, daughter, and grandchildren laughing and spreading love. She loved spending time with all her family. Easy going and laid back, she enjoyed staying at home crocheting, but she wouldn't miss a luncheon out with the ladies from church.  She was a strong, gentle, good Christian lady. She touched every life she was a part of and was a bright light that could not be dimed.  She is going to be dearly missed by all who knew her.
Flowers can be sent to Charter Funeral Home.