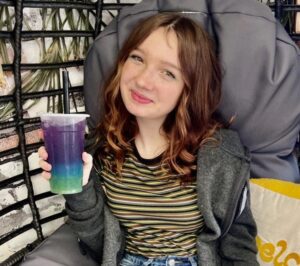 On St. Patrick's Day, 2009, our little lucky charm, a tiny 5Ib 9 oz baby girl came into the world.
Brailyn was a ray of sunshine. She would light up the room with her smile. She loved her family and friends. Being the only girl with 5 brothers, Brailyn loved animals, hunting, camping, taking walks, and the great outdoors, especially the sky.
She was very artistic and crafty. Brailyn loved baking cakes and cookies or anything she could find a recipe to. She loved to draw and was very good at it,
winning several awards.
Brailyn was involved in many activities, pageants, cheering, she was on the Montevallo Elementary dance team and played on the Montevallo middle school volleyball team. She was very athletic. Brailyn got the Alabama Physical Fitness Award. She loved track. She was on the cross country team at Montevallo Middle school. Brailyn was an actress in the play, "Miracle on 34th Street" with the Montevallo Main Street Players.
On Wednesday, July 6, 2022 Brailyn unexpectedly went to her heavenly home.
She is survived by her mother and father, Amanda & Poncho Espino; brothers, Giovanni Fuerte, Jahaziel, Javier, Chito & Kaiser Espino; maternal grandparents, Jamie and Steve Davenport of Calera, AL., Bill Edmundson of Phoenix. AZ; paternal grandparents, Debbie and Steve Smith of Montevallo, AL; aunts & uncles, Ariel (Robert) Oliver of Phoenix, AZ, Tara Davenport of Calera, AL, Mauro Espino of Montevallo, AL, Maria Espino of Mexico, Andrew Sweat of Montevallo, AL. and Zach (Kirsten) Sweat of GA, great aunts & uncles, Allison Curtis of Coal City, IL, Leslie (Tim) Jennings of Winston-Salem, NC, Carol (Jeff) Russell of McCalla, AL, Wayne (Alicia) Harris of AL. and numerous cousins.
Brailyn is proceeded in death by paternal grandfather, Kim Sweat; maternal great-grandmother, Sherrie Lucas; maternal great-grandfather, Cecil Mitchell; great uncle, Jon Curtis.
Services for Brailyn will be held in the Charter Funeral Home Chapel Monday, July 18, 2022. A visitation will be held at 11:00 am followed by a service at 12:00 pm. She will be laid to rest in Steel Cemetery.