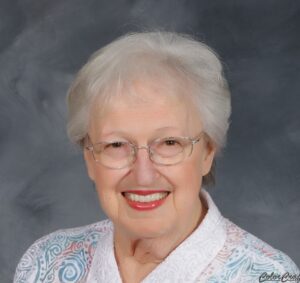 Barbara Cleazell Maner passed away October 2, 2021 in Alabaster, Alabama. She was 84 years old. She was born June 10, 1937 in Hatton, Alabama to Kyle and Dessie (Smith) Taylor.
She was preceded in death by her parents, her sister Diane Taylor, her husband Ray Maner, and grandsons Caleb and Kyle Burns.
Raised in a loving home by Christian parents, Barbara was baptized in the Tennessee River in Decatur, Alabama. She married Ray Maner in 1955 and they soon began their family. She faithfully passed her Christian values and her love for the Lord to her own children. Barbara was employed with Cook's Pest Control alongside her husband for many years and spent later years in retail and textile manufacturing before retirement. She and her husband raised their children in Cullman, Alabama and were members of First Baptist Church for many years. During their years in Cullman, Barbara supported her children in numerous church programs and activities. She served as a committed band booster and chaperone for several years.  She also enjoyed many years of camping and outdoor activities with her family.  Barbara was creative in her sewing abilities and an avid seamstress. She especially enjoyed making special occasion clothing for her children and grandchildren.
After the death of her husband, she unselfishly made it a priority to take on the responsibility of caring for the needs of her aging mother and in-laws for over 5 years before their deaths.  In 2004, Barbara relocated to Alabaster, Alabama to enjoy being closer to her children and their families.  She was able to enjoy time and special activities with her family and church friends.  She joined First Baptist Church, Alabaster where she was a faithful member throughout her senior adult years. She was quick to make friends in her Sunday School class where she was a joy to be around. Barbara loved to laugh and have fun with others during their fellowship. She is survived by her four children, Cheryl Kilpatrick (Gary), Mike Maner, Shannon Burns (Danny), Dana Frenkel (Danny); five grandchildren, Stefanie Gentry (Jarod), Steven Kilpatrick, Noah and Laura Burns, Jordanna Frenkel; two great-grandchildren, Paislie and Kingsley Staggs.
The family would like to express sincere gratitude to ExpectCare Hospice and Ahava Healthcare of Alabaster for their service and care.
The family will greet friends from 10-11 a.m. on Thursday, October 7, 2021 at First Baptist Church of Alabaster followed by the funeral service at 11 a.m. at the church. Burial will be at Cullman Memory Gardens, Cullman, AL.  Dr. Steve Andrews and Rev. Mike Byars will officate.