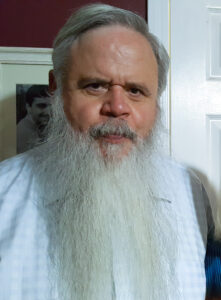 Thomas Glen Gough
"Tom"
May 11, 1951 – November, 15 2021
Thomas (Tom) Glen Gough, 70, of Alabaster, AL passed away November 15, 2021 to be with Jesus.  He loved the Lord, believed and followed the teaching of the Bible and prayed daily.
He was preceded in death by his parents, Charlie Gough and Erva Mae Gilbert Gough of Quinton, AL.
Tom is survived by his loving wife of 32 years, Kay Boatright Gough; his children, Brandi Shalaghn Smith (Kevin) of Gardendale, Harrison Gough (Ashley) of Tennessee, Kayla Glass (David) of Montevallo, Kaitlyn Herrera (Omar) of Montevallo; his grandson, Austin Blankenship of Gardendale, his nieces, Ashley Kizzire (Brent) of Hoover, Melissa Gough of Homewood; his sister, Charlotte Gough of Hoover; his brother, Charles Gough (Gail) of Hoover and his brother-in-law, Donald Boatright (Sharon) of Hoover.
Tom graduated from T.W. Martin High School and Walker College. He also attended the University of Alabama in Tuscaloosa.
Tom had a long career with BellSouth and AT&T Inc. in Birmingham with over 20 years of his career working with his wife. He enjoyed woodworking, the outdoors and loved all animals. Tom specifically enjoyed raising tropical birds and he especially loved his dogs.
Tom had a very witty sense of humor and could make you laugh at the smallest things. He was a kind, gentle, loving man and a great comforter.  He valued taking care of his family and always made time for others, no matter what they needed. He especially loved his wife, children and grandson. Tom will be greatly missed by all who knew him and his memory will be cherished forever.  Services will be Friday, Nov. 19, 2021 with visitation at 11:00 a.m. and service to follow at 12:00 p.m. burial will be in Oak Grove Church of Christ.