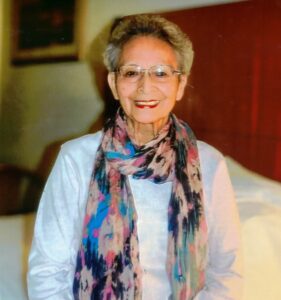 Sylvia Lopez Melendez, age 84 of Calera, Alabama, originally from Bakersfield, California, passed away on Saturday, July 16, 2022. Sylvia and her family moved to Homewood, in 1972, when her husband's last military assignment brought them to Alabama.
Sylvia is preceded in death by her parents, Arthur V. Lopez Sr., Cruz Martinez Lopez and her brother, Arthur V. Lopez Jr. all from Bakersfield, California.
Sylvia is survived by her sisters, Mercedes Lopez and Dolores Lopez, both from Bakersfield, her children, Suzanne (John) Nelms of Georgia, Christopher Melendez of Texas, Dominic and Paul Melendez of Calera, AL.
She is also survived by 7 grandchildren, Steven (Heather) Gallamore, Meredith (Tony) Churchill, William Nicholas Gallamore, Caitlyn Melendez, Taylor (Nicole) Melendez, Megan (Nick) Barefield, and Aiden Carlos as wells as 8 great grandchildren and one great great-granddaughter.
She was a loving, doting, and giving mother and grandmother, she will be greatly missed by all who knew her.