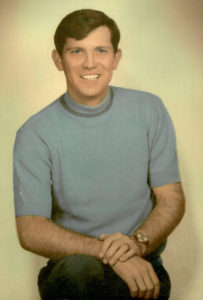 Robert "Bobby" Robertson
January 20, 1943 – May 28, 2018
Mr. Robertson was born in Todd County, Kentucky, to Buis and Pauline Robertson. He was preceded in death by his son, Michael Chad, and two brothers, Darrell and Jeffery.
He is survived by his wife, Margaret Nan (Nelson), two sons; Chris (Nicole) and Matthew, four grandchildren; Grace, Owen, Andrew and Rebecca, seven brothers and sisters; Peggy, Jerry, Maxine (Keith), Gail (Leroy), Brenda (Follis), Joel (Pat) and Allen.
Mr. Robertson was very successful in the construction business. During his fifty-seven year career, he served in a variety of positions, from field engineer to project manager. He earned a reputation as a loyal, dedicated and trusted employee and friend. He served many years with Blount, John Harbert and John Caddell Construction firms. Some of his accomplishments include; South Central Bell Building, BMW plant in South Carolina, several federal prisons and court houses, military bases, and UAB parking deck and retail center.
As the family provider, Bobby was a hard working, generous and a selfless man. Offering assistance to those in need and never asking for favor or gratitude. He demonstrated his selflessness often and was actively involved in youth sports programs. He volunteered his time as a coach and served as league president and commissioner during his tenure. The late, Mr. Sweeney, would often reflect on Mr. Robertson's generosity and expressed his gratitude for the contribution he made to save Pelham High School stadium and establish the field house, which is still utilized today.
Mr. Robertson will be greatly missed by those who knew and loved him. We take solace and peace knowing he is at rest with our Lord and Savior. Until we meet in heaven, love always, Momma.
A special thank you to Dr. Smitherman and staff for all of your assistance and care over the years. To Zeke, thank you for your continued friendship and Aunt Becky, thank you for always loving Bobby.