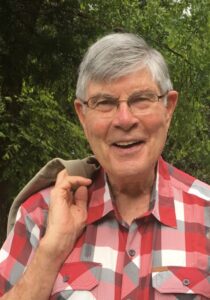 Robert Anderson Sutton, age 83, of Montevallo, passed Tuesday, November 17, 2020. He is preceded by his parents, Robert and Ruth Sutton; brothers Don and Jack; and niece Leslie Sutton. Robert is survived by his loving wife of 60 years, Sallie; daughters, Debbie Cook (Ron), Julie Carter (Burt); granddaughters, Tiffany Hughes (Jerry) and Traci Bennett; great-grandchildren Chad Hughes (Kayla), Danielle Hughes, Shelbi Bennett, and Katelyn Bennett; great-great-granddaughter, Sky Hughes; sister Rudy Letzring; and sister-in-laws, Jill Sutton and Sue Sutton.
He was a member of Montevallo First United Methodist Church and previously a member of University Baptist Church for many years. Robert was retired from Bell Telephone Companies, where he had worked as an Engineer for 35 years. He received his Bachelor's Degree in Electrical Engineering from Ohio Northern University and his Master's Degree in Electrical Engineering from Brooklyn Poly Institutes.
Robert's services will be held in the Charter Funeral Home Chapel Saturday, November 21, 2020. Visitation will be held at 1:30 pm, followed by a Celebration of Life at 2 pm. In lieu of flowers please make a donation to Montevallo United Methodist Church or University Baptist Church in Robert's name.