Patricia Ann Gallman (Hunteman) Pizzitola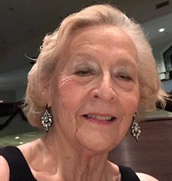 Patricia Ann Gallman (Hunteman) Pizzitola, 82, of Wilsonville, AL, passed away suddenly July 10, 2021. Born September 10, 1938, in Tuscaloosa, AL, she is preceded in death by her father, Dr. Lee Gallman, Sr., mother, Odine Gallman, and husband, Vito (Bill) Pizzitola. Pat, born during the Great Depression, daughter of a Baptist preacher, grew up during World War II. She graduated from Provine High School in Jackson, Mississippi, attended Judson College in Marion, AL for a short time, but ultimately graduated from the University of Montevallo, in Montevallo, AL in the late 1990's with a degree in Piano Pedagogy, under the mentorship of Dr. Anthony Pattin.
Pat led an eventful life, first serving as an emergency elementary school teacher during a major teacher shortage in Huntsville, AL before moving to Florida where she spent time working as a radio news reporter and then as a freelance photographer. During her time as a photographer, she photographed and interviewed many people, including Walt Disney before the opening of the Magic Kingdom, Ronald Reagan during his first run for president, and many astronauts during the Apollo missions. Pat caught the political bug for a short time while working to build and open a new library in Brevard County, Florida, running for mayor and a legislative position. However, her greatest passion lay in music. While she taught piano as a hobby living in Florida, it was not until she finally received her bachelor's degree that her passion took off.  For the past 25 years, Pat has taught piano at the School of Fine Arts at Columbiana Baptist Church, in Columbiana, AL. Known to her students as "Miss Pat", she taught over 300 students, ranging from 4 years up to 75 years old, with many of her younger students returning as adults to have her teach their children piano. She never retired, having taught up until the day before her passing.
Pat leaves behind her children, son, Bill Hunteman (Amber); daughter, Jennifer Shackelford (Lane); and son, Joseph Pizzitola (Jennifer); as well as grandchildren, Heather, William, and Matthew Hunteman, Kelyn and Kian Holmes, and Emily Pizzitola. Pat is also survived by her brother, Lee Gallman, Jr. (Chip); and sister, Judith Schenck (Alice Savoy); as well as a host of other relatives and friends.
Memorial service for Pat will be held on Saturday, July 31, 2021, at University Baptist Church in Montevallo, AL at 2 o'clock in the afternoon. In lieu of flowers, please consider donating to the American Heart Association. Rev. Daniel Stallings and Dr. Lee Gallman, Jr. officiating.