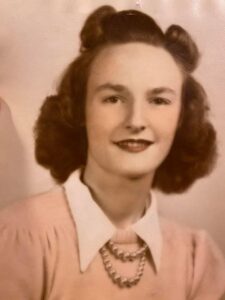 Margie Herron, age 95, of Birmingham, Alabama, passed away on January 8, 2021. She was born on March 9, 1925, in Bessemer, Alabama, the third child of Nimrod Denson Bentley and Marguerite Hazel Phillips Bentley.
She was preceded in death by her beloved husband, Charles E. Herron, her loving parents and  her brothers Nimrod Denson Bentley, Jr. and Jack Phillips Bentley.
She is survived by three sons, Michael B. Herron (Lisa), Kenneth S. Herron (Lee Ann) and Patrick C. Herron (Phyllis), all of Birmingham, Alabama. She is also survived by eight treasured grandchildren, Beth Dukes, Scott Herron, Charles Herron (Amber), Phillip Herron,  Bentley Herron, Turner Herron (Lindy), Houston Herron and Ann Harper Herron; two great-grandchildren, Abel Dukes and Cal Herron;  and numerous nieces and nephews whose company she enjoyed throughout the years.
Mrs. Herron grew up in the Bessemer area and was very involved in high school and civic activities. She attended Judson College and graduated from Auburn University in 1948. She belonged to Phi Mu sorority. After graduation, she taught school at several Jefferson County schools including Trussville High School, where she met her husband, Charlie Herron. She also taught in Huntsville, Athens and Tuscaloosa. She ended her career at Rocky Ridge Elementary. She resided in Oneonta, Alabama after retirement, until her husband's death, when she returned to the Birmingham area.
Those who wish to remember Margie in a special way may make gifts in her memory to the Alzheimer's Foundation.