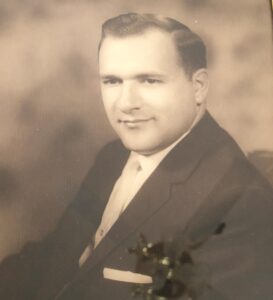 Lewis Mesmore King, Jr. passed away peacefully at his home in Alabaster, Alabama on August 23, 2020. He was 90 years old. He was born March 5th, 1930 in Somerset, PA. He was preceded in death by his Parents, Lewis Mesmore King, Sr., and Edna Dakota, Brother; Wesley King and Sisters; Jennie (Prince), Laura (Wirsing), and Florence (Nicholson). He is survived by his wife, Betty Willis King of 69 years, Sons: Timothy Alan King (wife Clara), Jeffrey W. King (wife Michelle), and Philip Lewis King (wife Jana).  Grand children: Patricia Ann Duncan (Barry), Holly Leigh Rojik (Steve), Timothy Alan King Jr. (Anne), Mary Beth Murphy (Daniel), Joshua Lewis King (Minda), Carissa Lynn Rickman (Matt), Rebekah Ann King and Hannah Elizabeth Avant (Jonathan). Great grandchildren: Kayley Sexton (Josh), Tristen Bennet, Reilley Bennet, Clayton Hooper, Jillian Hooper, Timmy Jr. King, Charlie King, Rory King, Finley King, Brooks Murphy, Ryan Murphy, Brynlee Murphy, Fiona King, Samson Rickman, Solomon Rickman, and Shiloh Rickman.
Lewis was a member of Westwood Baptist Church, Alabaster, AL. He attended grades 1-12 in Somerset, PA. He received a BA in Religion from Milligan College, TN, where he met his wife, Betty, and received a Master of Divinity from the Baptist Seminary in Louisville, KY.
Lewis ministered for five decades. He pastored churches in Kentucky, North Carolina, Indiana,  West Virginia, and Ohio. He and Betty spent seven years on the mission field in Puerto Rico.
The family would like to thank Comfort Care Home Health for their wonderful loving care of Lewis.