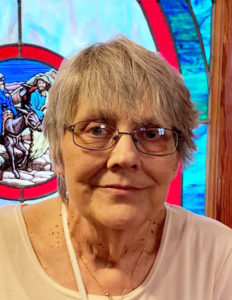 December 29, 1953 – August 18, 2019
Judith Kay Maxwell stepped into eternity August 18, 2019. She was born December 29, 1953 in Ohio. She is survived by her husband, Fred Maxwell; son, Rev. James (Darlene) Hancock; daughter, Jan (Greg) Whitesides; brother, Richard (Evette) Lindell; sister, Geralyn Posey; grandchildren, Ashley (Anthony) Davis, Andy Hancock, Robert Lavender, Billy Lavender, Max Lavender, Jasmine Swann, Josh Swann, Jackson Whitesides, Allissa Whitesides and Matty Whitesides; great grandchildren, Cayden Davis, Emmalyn Davis, and Carter Davis. She is preceded in death by her mother and father, Bob and Trudy Lindell; brother Mike Lindell; and great grandson, Damian Lavender.
A Celebration of Life will be held on Saturday, September 7, 2019 at 11:00 a.m. at Siluria Baptist Church, 10696 Highway 119 South, Alabaster, AL  35007.