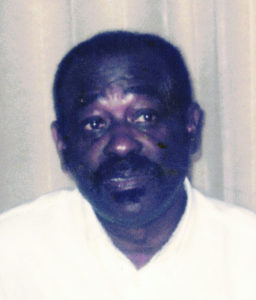 The late Johnny Bryant was born January 23, 1940 to the late Mr. Warnell Bryant & Mrs. Mamie Sexton Bryant.
Johnny was preceded in death by his parents; daughter, Sharessa Yvette Bryant; 3 brothers, Earl Bryant, Willie Henry Bryant, and Fred Bryant; sister, Janie Frances Bryant Blanchard; and 2 grandsons, Martel Bryant and Jonel Bryant.
He leaves to cherish his memories his son, Gamel Bryant; grandson, Bryan Barksdale; great granddaughter, Shakyra Newson; great grandson, Samuel Barksdale; 4 brothers, Warnell Bryant, Sr., Horace Bryant, Fate Bryant, Sr. (Doris) and James Bryant; 2 sisters, Fannie B. Lilly and Doris Threatt (Eddie); and 3 good friends, Henry Smith, Milton Versley, and Anthony Muhammad.
A memorial service will be held on Tuesday, June 16, 2019 at 1:00 p.m. in the chapel of Charter Funeral Home.