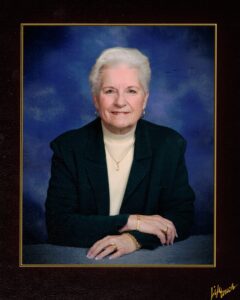 Helen Glasgow Childers, age 81, passed away peacefully at home surrounded by family, on December 14, 2020. She was preceded in death by her Husband, Frederick K. Childers and parents, Ralph and Elsie Glasgow.
She was survived by her sons, Allen Sanders (Leah) and Steven Sanders (Bonnie); grandson, David H. Sanders (Melissa); granddaughter, Sabrina Sanders (Scarlett); granddaughter, Katelyn Sanders (David A.); granddaughter, Melinda Atchison (Nickalas); great-grandson, Walter; great-granddaughters, Julianne and Francis; and her sister, Sharen Glasgow.
Mrs. Childers was a loving and caring mother to her children and grandchildren.  She was a long-standing member of the First United Methodist Church in downtown Birmingham.
There will be a Memorial Service for family and friends on Dec 19th at 11:00 AM at the church, the address is 518 19th St N, Birmingham, AL 35203, with Stephanie Arnold officiating the service.  Due to COVID restrictions, only 50 people will be allowed in the building at a time.  The service can be live streamed at https://www.facebook.com/First-Church-Live-Events-102146608384646/
In lieu of flowers the family would prefer donations to be made to the Parkinson's Foundation.