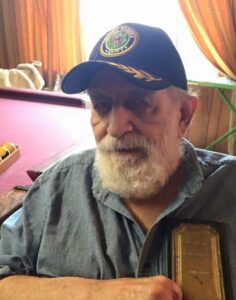 Frank Romeo, 91, of Pelham, AL passed away on January 13, 2022. Born March 6, 1930, in Tampa, FL, Frank was the youngest of five children born of parents Joseph and Mary (Fulco) Romeo, both of whom emigrated from Italy in the early part of the century. Growing up, Frank worked alongside his family in their restaurant, the Romeo and Juliet Sandwich Stand located in the neighborhood of Six Mile Creek. Frank served in the US Army, where he spent time overseas and won the title of Automatic Rifle Champion of the 12th Armored Infantry Battalion. After his military service, Frank went to work at a Tampa cigar factory where he met his wife, Annie Mae, and became step-father to daughters Billie Ruth, Julia, and Joyce. Eight years after their daughter Jeanette was born, the couple moved to Pelham, AL to care for Annie Mae's parents. There, Frank built "a little old house, with his little old hands," where he would live out the rest of his life.
In life, Frank enjoyed telling stories about Six Mile Creek, watching the wildlife (and his family) from his window, and reciting remembered cadences he learned while in the Army. One of his favorites was, "GI Beans and GI Gravy, Gee, I wish I'd joined the Navy." He is preceded in death by his wife, Annie Mae; parents, Mary and Joseph; brothers, Anthony, Dominic, Rockie, and step-daughters, Billie Ruth, Julia, and Joyce. He is survived by daughter, Jeanette Thompson (Steve), sister, Sarah Ford; grandchildren, Stephen Thompson (Sonya), Ben Thompson (Katie), Holly Ayers (Matt), Renea Swingler (Mike), Rita Holden (Michael), Ruth Ann Hendry, Nancy Rich (George) and many many great-grandchildren.
A graveside service will be held Monday, January 17, 2022 at the cemetery of Oak Mountain Baptist Church (1475 County Road 35 Pelham, AL 35124) at 2:00PM.