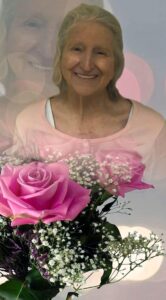 Frances E. Hafer age 74, of Sterrett passed away on Sunday, August 15, 2021 with her family by her side.
 Frances is preceded by her parents, William Arthur Abernathy and Ola Demoval Rasco Abernathy; husband, Terry Hafer; son, Dewayne Hafer; brothers, David & Buddy Abernathy; sister, Jean Massey.
Frances is survived by her daughters, Donna Alexander (Greg), Ginger Thompson (Richard) and Judy Fenley; 16 grandchildren; numerous great-grandchildren; brother, Roger Abernathy (Penny); sisters, Alice Holsomback, Sue Hutchison and Jessie Faye Bunn and numerous nieces and nephews.
Services for Frances will be Wednesday, August 18, 2021 at Montevallo Church of God with a visitation 6:00 p.m. – 8:00 p.m. and a service Thursday, August 19, 2021 at 2:00 p.m. burial will follow in Ryans Cemetery.