Edward (Ed) John Kovalchick, Jr.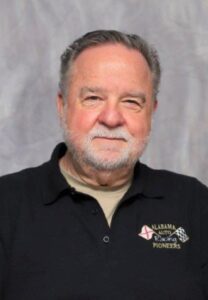 It is with deep sadness that we announce that the Lord called home Edward (Ed) John Kovalchick, Jr. of Helena, Alabama, on March 7, 2022. He was a special husband, father, "Dee", and friend to many who knew and loved him. Ed was preceded in death by his father Edward Kovalchick, Sr.; step-mother Roberta Kovalchick; mother-in-law Virginia Smith; aunt Dorothy Roark; uncle Nicholas Kovalchick; grandson Gunner Williams; as well as other family members and friends. He is survived by his devoted wife Pat Kovalchick; daughters Micheala (Ray) Haynie and Johnna (Michael) Matthews. Ed was the proud "Dee" to Kelsey (Brandon) Cranmer, Aja Matthews, and Eli Matthews; and special great-grand "Dee" to Gunner Cranmer.
Ed was born in DuBois, Pennsylvania, on November 14, 1949. He grew up in Sagamore, PA and as an early teen moved to Endicott, New York. He finished high school in West Monroe, Louisiana and went on to attend the University of Louisiana -Monroe, earning a Bachelor of Arts in Journalism.
Ed developed his love of cars early in life and opened his own repair shop at the ripe age of 18. His meticulous mind led him to be very successful in not only the repair industry, but the automotive industry as a whole. In his mid-20s, he moved to Shelby County, AL, to marry his sweetheart Pat. After a short run as editor of a county newspaper, he returned to the auto industry and opened his own consulting firm in 1979, Net Profit Inc.
Over the 35 years that Net Profit Inc. was a fully functioning firm, Ed enjoyed management consulting with dealerships and automotive manufacturers world-wide. After semi-retiring, he enjoyed his leisure time in his car-barn, endless projects and traveling to vintage races with his best friends.
He spent years in the Single Action Shooters Society where he donned the name "Dealin' D". As a gunslinger he went as far as California to compete. He always enjoyed his weekly dinners with "the cowboys."
Along with his other commitments, he was a
columnist for Dealer Magazine, contributor to MOPAR Masters Guild Magazine, Victory Lane Magazine and Digital Dealer.
He was the President of Alabama Auto Racing Pioneers and a dedicated volunteer at Barbers Motor Speedway.
Above all else, Ed loved his family and took pride in providing for them. He will be sorely missed.
Services will be held at the family church, The Church at Cahaba Bend, in Helena, on Friday, March 11, 2022. Visitation will be at 12pm with service to follow at 1pm. In lieu of flowers, please consider donating to the Ed Kovalchick Memory/Fix-It Fund at The Church At Cahaba Bend.