Dorothy Phillips Lefkovits Bearden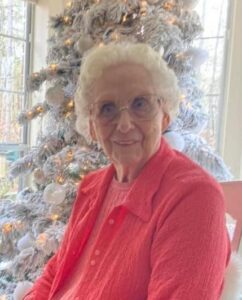 Dorothy Phillips Lefkovits Bearden, age 97, of Columbiana passed away Monday, February 8, 2021.  She had been a resident of Columbiana since 1946. Dorothy worked in the family owned business "The Columbiana Leader" for 20 years.  She was born in Ohio and attended school there.  Dorothy was employed by Ohio Central Bell Telephone Co. for four years in Lebanon, Ohio. She trained at Hunter College in New York and served two years in the W.A.V.E.S at the shipyard in PA. as telegrapher in the classified code room.  She was a Code Girl.
Dorothy is preceded in death by her husbands, Alvin Lefkovits and Homer Bearden; brother, WM Phillips (Velma); sister, Jane Morris (Charles) She is survived by her dear friend – daughter by heart and caregiver, Karen Brasher Sweeney, her husband, Dennis; daughter Langley Kyle (Jeff); granddaughters, Addison and Ansley; All who lovingly called her Grandma Dottie; four nieces and four nephews; a host of friends.
A graveside service will be held Saturday, February 13 2021, in the Columbiana City Cemetery at 1pm. In lieu of flowers please donate to the United Methodist Church of Columbiana; P.O. Box 676.