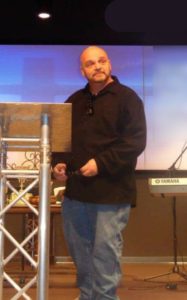 Brother David Eugene Isbell, age 55, of Helena, AL, went home to be with the Lord  Friday, February 10, 2017.  He was 17 years old when he began Preaching The Message of the Lord in various churches.  Brother David went on to becoming the Pastor of Shepherd's Harvest for 25 years and was the administrator of the Shepherd's Harvest Christian Academy as well.  He was serving as Associate Pastor of Oak Mountain Independent Church for the past 2 years.  He loved the Lord, his wife, Alesia and his children with all his heart. He was predeceased by his dad, Billy David Isbell,   His survivors include his wife of 36 years, Alesia Isbell;  children, Brook Isbell, Elizabeth Burnett (Clayton), Michelle Sparks (Shawn) and Haley Isbell; mother, Margo Parrish (JC); siblings, James Isbell, Tammy Blankenship and Jeannine Wyatt; step-mother, Della Isbell; 9 grandchildren and a host of other family members and friends.  The family will receive friends,
6-8 pm
,
Wednesday, February 15, 2017
at  Pelham Church of God.  A Funeral Service will be
11 am
,
Thursday, February 16, 2017
at the Church. A Committal Service will follow at Cedar Grove Cemetery.  Pastors Melvin Massey, Ray Smith, George Golden and Gary Beavers are officiating the services.   Charter Funeral Home directing.