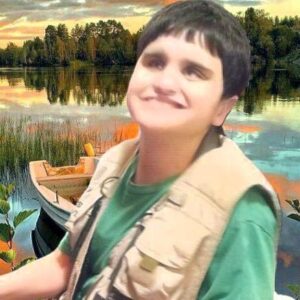 Heaven gained an angel on April 26, 2021 when Colin Alexander White, age 23, went home to Heaven.  A visitation will be held at Charter Funeral Home on Saturday, May 8, 2021 at 11:00 am with a memorial service to follow at 12:00 pm.
Colin is survived by his mother, Cindi White; brother, Zachary Partridge; caregivers, JaMarr and Celestine; as well as a host of extended family and friends at Learning Tree and Lifetime Heath Services.
Colin was a very special man who could brighten any room.  He loved to go fishing with JaMarr and anything to do with the water.  He would float all day in the pool if you would let him.  Colin also had a fondness of hats, and would collect as well as wear any kind from baseball caps to fishing hats.  Colin lived up to his nickname Houdini as he could escape from any confined space.  Colin knew no fear and showed it in his bravery.  He could do anything he put his mind to.  Colin found comfort in anything that shined or sparkled.  He also found delight in special sounds. Colin was an angel to all who knew him and his mischievous grin and sweet attitude will be dearly missed.