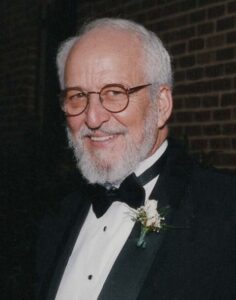 April 8, 1939 – February 19, 2022
Charles Sanford Colley of Alpine, AL was born on April 8, 1939 and passed away peacefully on Saturday, February 19, 2022. He is survived by his daughter Lauren Studdard (Barry) of Pelham, AL and son Kevin Colley (Danica) of Boise, ID; sister Emily Ritchey (Royal) of Huntsville, AL; and beloved grandchildren, Emma, Miles, Royal, and Davin. Surviving members of his extended family include Karl Strain (Jennifer) and Allison Fuller (Tommy). He was preceded in death by his parents James Oscar "J.O." and Mary Griffin Colley of Russellville, AL and sister Ruth Strain (Bryant) of Birmingham, AL.
Sanford earned his Bachelor of Arts from Howard College in Birmingham, AL in 1963, Master of Divinity from Southern Baptist Theological Seminary in Louisville, KY in 1966, Master of Education from Indiana University, and Doctorate of Education from University of Alabama in 1970. Shortly thereafter, he became a professor of Counseling and Educational Psychology at University of Montevallo and was there until he retired in 1993. For a period of time during those years, he was Chair Administrator of Counseling in the College of Education and Acting Provost & Vice President of Academic Affairs. He has written several published articles throughout the years and was an active member and President of the National Chapter of American Personnel & Guidance Association, the Alabama Counseling Association, and later spearheaded the accreditation team for Florida Gulf Coast University. His family has fond memories of joining him for 4 months in Bogota, Columbia in South America, where he taught with the UM Graduate program during the summer of 1982.
Sanford was a charter member of University Baptist Church in Montevallo, Alabama, where he was actively involved in its creation and growth over the years. During his lifetime and following retirement, he would spend any free time at his home on the lake which he built from the ground up, woodworking in his shop, or enjoying life on the water aboard his sailing vessel. He discovered an indescribable peace and enjoyment being outdoors—whether camping, hiking, biking or sailing—and he loved nothing more than sharing that love with his family and friends. The most memorable moments were ones shared with Sanford aboard his boat, exploring the outdoors, traveling, and sitting around his dinner table enjoying a gourmet presentation of meals which he loved to prepare for family, friends, colleagues and students.
A Celebration of Life service will be held Thursday, March 10
at University Baptist Church in Montevallo, Alabama.
Visitation begins at 1pm followed by service at 2:30pm.
*Masks are required. Service will be available via Facebook Live.
In lieu of flowers, the family requests donations be made to:
University Baptist Church | PO Box 3 | Montevallo, AL 35115