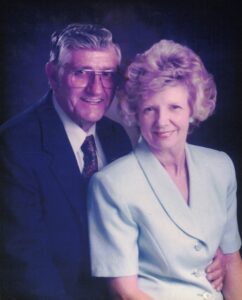 Mrs. Billie Sue Pickett Elliott, 83 years old, went home to be with her Lord, Jesus Christ, on Sunday morning March 21 st -2021. Bibi, as she was very affectionately known to her closest family members including grandchildren and great grandchildren, was surrounded by these loved ones as she spent her last days, in her earthly home, in Pea Ridge. As she did, daily, throughout her long and fruitful life, Bibi met every challenge with a godly integrity and made sure of leaving no stone unturned no matter how hard the challenge. In this quest, of holy distinction and selflessness, she made sure everything and everyone was at peace before going "Home." In going home, she left her body behind and exchanged it for a new one with no earthly restrictions and began a joyous reunion with many loved ones that had gone on before her.
 In her early years, Bibi grew up poor in the aftermath of the Great Depression. This would leave a lasting impression on her to not waste anything and make the most out of what you had. She wasn't frivolous by any means but, like any southern woman worth her weight she loved pretty things and appreciated good quality. Bibi always put others' needs before her own and not only raised and influenced her own children and grandchildren but, early on, worked at Montevallo Elementary School feeding teachers and children. Once retired from there, she had an entrepreneurial spirit in opening her own business called "Nails By Billie." She had a very dedicated clientele of women, for more than 20 years, that would come from all over to have her make them beautiful with the very best techniques and products in manicuring and pedicuring. Bibi was always involved in church functions such as teaching a young boys class at Bethel Baptist Church and women's auxiliary and was very active at Kingwood Church in the Sunday school ministry.
 Bibi had a very large and loving family. She was preceded in death by her husband of 59 years Raymond Samuel Elliott. Her parents William Joseph "Paw-Bill" Pickett and Azlee "Nanny" Holsomback Pickett. Four brothers; Carl Pickett and wife Juanita, Grady Pickett and wife Eunice, Albert Lee Pickett and wife Cherry (still living) and Pete Pickett all of Pea Ridge. Two sisters; Elizabeth Pickett Bergstresser and husband Jack of Amarillo and Jo-Ann Pickett. Billie and Raymond raised two daughters; Roxanne Elliott Ponder and husband Mike of Pea Ridge and Lisa Kay Gilliam and husband Barry of Daphne. Bibi leaves her legacy behind in six grandchildren and their spouses; Jayson Heath and wife Cori of Maylene, Colby Heath and wife Kristin of Brierfield, Drew Heath of Pea Ridge, Candace Marshall and husband Kory of Helena, Lindsey Laney of Helena and Dylan Boothe of Daphne. Nine great grandchildren; Makae, Ella-Rose, Jaida, Jaxon, Jacob, Cooper, Scarlett, Riley and Ansley. Also leaving a host cousins, nieces and nephews.
Billie's funeral services will be held on Wednesday, March 24, 2021 in the chapel of Charter Funeral Home in Calera starting at 3:00 p.m. with Pastor Mark Sims officiating. Family will receive friends for viewing an hour prior to her service. Burial will follow her service in Macedonia Cemetery- Pea Ridge.
She Is Already Deeply Missed!