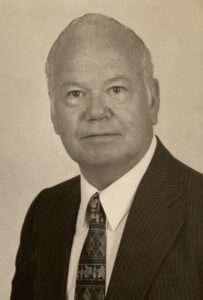 Albert L. "Al" Green of Centreville, Alabama, age 86, passed from this walk of life on March 7, 2022. Albert worked for N.D. Cass Co. for 50 years, for 30 of those years he was the V P General Manager. He served on the board of a bank locally for 20 years. Albert partnered with Sawmill and Lumber Manufacturing Company Centreville Lumber Co; that now operates under another name, and from there he started his own Retail Furniture Store in Centreville. With the help of two partners, he developed 80 acres subdivision called Green Tree.
Albert had a love for the Lord, and showed it in many ways; he served as the Adult Sunday School Teacher, and Bible Study Teacher. He went to Mexico to share his ministry by helping build churches. Albert was also an active Gideon speaker, where he  served as the past president and was currently treasurer.
His ministry did not stop at that, he also dipped his hands in community service around his home. Albert was a volunteer firefighter in Brent for 20 years. He served as the Bibb County Healthcare Authority for 39 years and was the Bibb County Commissioner for 8 years. Albert was on the Bibb Industrial Development Board as well as the Cahawba Christian Academy Board. He was a member of the Alabama National Guard and remained an Advocate for the National Guard Employer relations. He was also active in the Bibb County Trade School Establishment, and numerous other committees and boards.
When Albert was not working, volunteering, or sharing his ministry he like to spend his time hunting, fishing but, above all he loved to spend time with his family and friends.
 He is preceded in death by his parents, Albert S. and Edith Louise Lincoln Green; sisters, Jane Wentworth, Edith Taylor; brothers, Arthur F. Green, Henry Thorne; grandson, Cannon Chase Murphy.
Al is survived by his loving wife of 64 years, Myrlin O. Green; daughter, Sherry Green Potter; 3 grandchildren, Forrest S. Murphy, Hunter R. Murphy (Amy K.), and Clinton R. Murphy; 7 great-grandchildren, Jayden Brent, Anna Pearl, Aaron Minor, Ruby Rose, Hardy McClain, Sara Cate, and Hadley Kane.
Celebration of Life service will be held on Friday, March 11, 2022 at 1:00 p.m. at Centreville Assembly of God Worship Center. If anyone would like to donate to his favorite cause please go to www.Gideon's.org/donate. The Gideon organization in our local area will also have donation cards at the church. Donations can be given in honor of Albert L. Green.