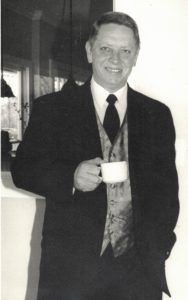 11/21/1948 – 05/09/2019
Charles Ricky Davidson, passed peacefully at home on 05/09/2019 surrounded by close family and friends.
Ricky was preceded in death by his parents, Mary Alice Parker Davidson and Clarence W. Davidson, older brother Michael, and younger sister, Marguerite Davidson. He is survived by his brother, James Warren Smith, Sarasota, FL, his loving wife of 48 years, Rebecca Jan, his two daughters, Amy J. Davidson, Columbiana, AL and Christie Davidson Lowe (Timothy Wayne), three granddaughters, Margaret Evelyn, Julia Claire and Gwyneth Laurens Lowe, Pelham, AL.
Ricky was a great salesperson, husband, father, brother, grandfather and friend. He worked in architectural hardware with home builders and local contractors throughout the Birmingham area. He was an avid golfer and his carpentry skills were unsurpassed. He had an interest in all things involving music, trains and nature.
A Celebration of Life will be held on Saturday, May 11, 2019 at Charter Funeral Home, Calera, AL at 2:00 pm. In lieu of flowers, please make a donation to the American Cancer Society.