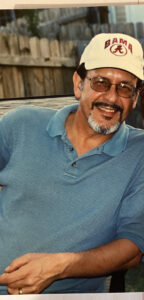 James Richard Schmidt of Alabaster passed away April 26th, 2021 at Shelby County Medical.  Richard was born to Joseph and Florence in Talladega, AL on October 6th, 1951.  He would later relocate to Midfield, AL at a young age.  Richard graduated from Jones Valley High School, served in the US Army, and later graduated from UAB.
In his younger years, Richard was viewed by many as the life of the party with his antics, jokes, and overall humor.  His personality had such gravity that people's attention were oftentimes drawn to him.  He loved being the center of attention, because he enjoyed the opportunity to engage and entertain people.
He was an advit Alabama fan that was rarely seen without an Alabama ball cap gracing his brow.  He was a fan that never missed a game and brought his enthusiams to each play.  Watching a game with Richard added something extra to every game.
Richard had a certain gentleness to him that was easy to laugh, easy to give love, and easy to love.
He was above all things, a man that contained a beautiful faith in Jesus Christ.  Richard could be seen each afternoon with his worn Bible that had been peppered with notes.  Although we are left with only cherished memories, Heaven is undoubtedly a much better place with him there as he is, without question, rejoicing with angels with the same baritone voice that he used to sing to his wife and daughters.
He is survived by his wife of 47 years, Sharon Diane, his children Jamie (Michael) Simpson, Alana (Justin) Hulsman, grandchildren Isaac Simpson, Jackson Gamble, and Everett Hulsman, brother Mickey (Sandi) Schmidt, brother-in-law King Thatenhurst, and many nieces and nephews.