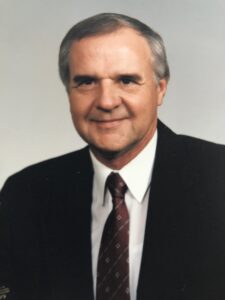 Donald C. "Don" Caldwell passed away on April 3, 2021 at the age of 85. Don was born in Wylam, Alabama, and was the oldest son of Marjorie and Clarence Caldwell.  He is survived by his wife of 62 years, Jane Harrison Caldwell; his son Warren Caldwell (Danielle); his daughter, Chanley Caldwell Morgan (Jim); his grandchildren, Clayton Morgan and Audrey Morgan; his brother, Frank Caldwell; his sister, Joyce Caldwell Patterson; and many other relatives and friends.
Don graduated from Ensley High School, where he played on the varsity football team and earned the distinguished rank of Eagle Scout.  After attending Samford University, he graduated from the University of Alabama where he earned a business degree and was a member of the Sigma Nu fraternity. He served his country in the Army during the Korean War. Don worked in the transportation industry, representing Jones Truck Lines, Saia, and other transportation companies.  He was a member of Dawson Memorial Baptist Church for 30 years and Shades Crest Baptist Church for 20 years.
Don enjoyed sharing stories and memories of traveling and growing up in Wylam. He loved attending and frequently organizing Ensley High School class reunions. He was a member of the Birmingham Track Club and loved all types of exercise.
A graveside service will be held on Saturday, April 10, 2021 at 2:00 P.M. at Elmwood Cemetery.