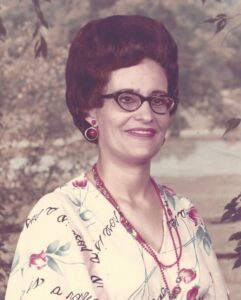 Julia Ann Vickery, age 80, passed away Sunday, October 24, 2021 surrounded by her loved ones.  She was born in Fairfield, AL. on December 10, 1940.  Julia graduated from Woodlawn high school, and later went to work as a Billing Clerk.  She was a member of Sumus Amici Y-Teens:  The meaning of Sumus Amici is "we are friends" with the goal of helping and spreading happiness to others.  She was a lifetime member of the Gold Wing Road Riders Association.
She is preceded in death by her parents, William and Anna Houts; brothers, William Earle and Eldon Leroy.  Julia is survived by her loving husband, Jerry Ray Vickery, Sr.; son, Jerry Ray Vickery, Jr.  (Carol); daughters, Pamela Thornton (Tommy) and Jennifer Shannon (David).  Grandchildren:  Jerry Ray Vickery, III (Nicole), David Vickery, Christa Hughes, Aaron Efram and Skylar Thornton.  Great grandchildren:  Sara, Christopher, Bentley, Carly, and AJ Hughes; and her sister, Willie Tommie (John).
Services for Julia will be Thursday, October 28, 2021 in the Charter Funeral Home Chapel.  A visitation will be held at 11:30 a.m. followed by a celebration of life ceremony at 12:30 p.m.  Burial for Julia will be in the Alabama National Cemetery at 2 p.m. without graveside services.