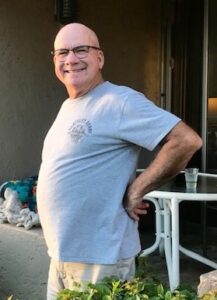 Byron Holloway, age 63 of Vincent, Alabama, passed away on Sunday, November 07, 2021. Byron was in the banking industry for many years. He was always a down to earth person who had a passion for golf, and being surrounding by friends.
Byron survivors are his loving parents, Paul and Donna Holloway; fiancé, Cindy Brown; sons, Alex Holloway (Jennifer), and Curtis Whitney (Nikki); brothers, Paul "Bud" Holloway (Cindi), and Marty Holloway (Sandy); grandchildren, Kash Holloway, Ashton, Izzy, Christian, and Tylar; numerous nieces, nephews, cousins, and Charlotte Whitney mother to Alex.
Gathering for Byron will be held on Wednesday, November 10, 2021 in the chapel of Charter Funeral Home from 5-7 p.m. His family will be going back to their hometown in Kentucky, on Saturday, November 13, 2021 for a final Farwell to remember his life.