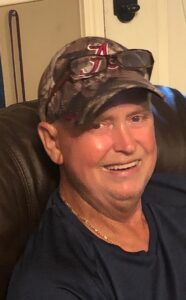 Terry Lee Payton, age 54, of Vance passed away on Friday, August 5, 2022.
Terry is preceded in death by his parents, Robert E. Payton and Alice Louise Payton; sister, Charlotte Sullivan; brothers, Jerry, and Robert Payton.
Terry is survived by his son, Cody Payton; daughter-in-law, Hailee Payton; grandchild, Uriah Payton; sister, Alice Brunner; brothers, Jimmy Duke and Alan Burnett and a host of nieces and nephews.
Services for Terry will be Wednesday, August 10, 2022, at Charter Funeral Home at 12 noon with visitation one hour prior to services. Burial will be held in Providence Cemetery. Brother Mike Wydemon will be officiating.