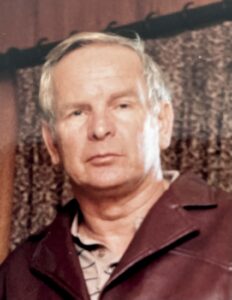 CHARLES WAYNE ESTELL
April 27, 1932 – July 4, 2022
Charles Wayne Estell, 90, of Pelham passed away on July 4, 2022 after a long illness.
He was born and raised in Carbon Hill, son of the late Wallace Joshua Estill and Nellie Mae Sparks Estell. He is survived by his wife of 44 years, Doris Martin Headley Estell; children Karen Estell Gambrell (Mike) of Athens, and Gary Estell (David Jones) of Atlanta, GA; stepdaughters Pamela Headley Dumas (David) of Birmingham, and Angela Headley Denard Ryan of Pelham; daughter-in-law Reba Headley of Jemison; grandchildren Brian Gambrell (Elizabeth), Tiffany Gambrell Honeycutt (Doug), April Headley (Jake Horton), Tiffany Headley Connell (Jeremy), Jennifer Headley Epperson (Brian), Christen Dumas, Justin Dumas, Jay Denard (Kari), Brandy Denard Moates (Jason), and Matthew Hill (Scott Terry); 15 great grandchildren; and one great great grandchild. He is also survived by two brothers, four sisters, and numerous nieces and nephews. He was preceded in death by stepchildren Gary Headley and Susan Headley, two brothers and one sister.
Charles was an Army veteran, serving during the Korean War. Having an aptitude and interest in mechanics, he worked as a master mechanic and millwright. Throughout his working career, Charles was employed by the Caterpillar Plant in Joliet, IL, the Ford Motor Company Stamping Plant in Chicago Heights, IL, the Kimberly Clark Paper Mill in Childersburg, Alabaster Industries in Alabaster, The Birmingham News, and several manufacturing plants in the Birmingham area. Charles requested a private burial. The family request that in lieu of flowers, donations may be made to the American Cancer Society or the Veterans Administration.