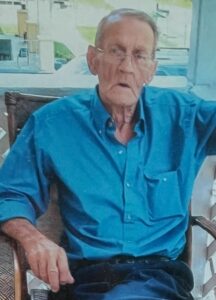 Arthur Earl Lee, age 82, passed away on May 26th at his home in Calera, Alabama.
He was born August 30, 1939 to James and Pauline Lee. He was a resident of Calera, Alabama since 1939. He married the love of his life Shirley Faye Lee on June 4, 1960. They were married for 60 years.
The couple lived and raised their 5 children in Calera. As a very young man he learned to work hard and took on many jobs to support his family. He worked many years as a Calera police officer then later retired to become a truck driver and worked for Metrock Steel and Wire until he fully retired. He was a loving man to his family, he sometimes came across as a tough and demanding person but only because he loved his family and only wanted the best for us. If he was hard on you I truly believe it was only because he loved you and wanted you to work to your full potential to have a good life and have nice things in life, his pride and joy was his house and yard he worked endless hours to make sure everything and everyone was taken care of. He only wanted his family to work just as hard as he did all the years of his life. He will be greatly missed by all who knew him but he will still be cheering and pushing us along through this life until we met him again in Heaven.
He was preceded in death by his wife, Shirley Lee; his parents, James and Pauline Lee and brother, Herman Lee.
He is survived by his children, Denise Gothard (Tony), Diane Pate, (Lynn), Jamie Lee (Donna), Darlene Lee, Jimmy Lee (Jennifer); granddaughters, Lisa Lemley (Adam), Tonya Leigh, Hannah Golden (David), Felisha Mooney (Cody), Kayden Lee, Khloe Lee, Mckenzie Lee; grandsons, Troy Connell, Cody Lee, Javen Lee; great-grandsons, Andrew Gothard, Noah Lemley, Jackson Leigh, Tony Leigh, Jaxon Mooney, Cole Lee, Hunter Lee; great-grandaughter, Paisley Lee; sisters, Joyce Joyner and Pasty Loggins and a host of nieces, nephews, family and friends.
Services will be held Sunday, May 29, 2022 with visitation at 2:00 p.m. and a service to follow at 3:00 p.m. both at Charter Funeral Home.