William Ramsey Best "Bill"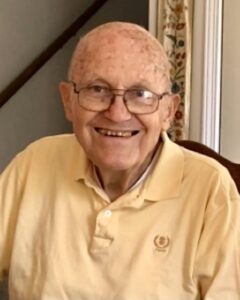 Bill Best
1927 – 2020
William Ramsey Best "Bill" and "Papa" age 93, passed away peacefully
December 12, 2020. He was born in 1927 in a little village in Ohio called Belle Center.
He attended Muskingham College in New Concord, OH,
where he met his wife of 70 years, Peggy Owens Best, who survives him.
He is also survived by his children, Betsy and Bill (Tracy); his grandchildren Mandy, Stephanie (Jacob), Jenny (Jenn), Ryan (Katy), and Sandy (Brian); and his 11 great-grandchildren.
Bill was a wonderful person. He had a great sense of humor, and teased everyone—even
strangers. He knew the shortest distance between two people is a laugh. He called his great-
grandchildren "Jughead," when he couldn't remember their names, somehow making them feel
even more special and loved.
He served in the Navy during WWII, and then worked for Goodyear Tire & Amp; Rubber Co. in Akron, OH; Kansas City, MO; Los Angeles, CA; and Scottsboro, AL for 30 years before retiring.
He and Peggy then went on to manage condominiums on Marco Island & Naples, FL.
They retired "again" spending several years in Ocala, FL before moving to Alabaster, AL in 1997.
One of his passions and greatest gifts was wood-working, filling shelves upon shelves with
beautiful, intricate carvings. He was the quintessential Do-It-Yourselfer and had an inspiring
workshop. He was a Boy Scout troop leader for over 50 years, passing on his love for the great
outdoors to both his scouts and many of his grandchildren.
In recent years when his wife, Peggy's hearing and sight started declining, he would sit beside
her on the couch at family gatherings, and hold her hand, narrating what was going on around
her. He loved her so deeply and so well. He took such good care of her and his family as long
as he was able. Now he has gone ahead of her, and he will make sure that when she joins him,
she'll have a seat beside him, and he will make her laugh and they will hold hands. His family is
grieving his loss but celebrating his wonderful and generous life.
A private, family memorial service will be held at a later date. In lieu of flowers, please consider
making a donation in his memory to his church, BPUMC, or to Children's Harbor, a non-profit
serving children with serious illnesses and their families. Over the years Bill carved more than
16,000 small wooden toys and ornaments for the children and their families to paint and keep.
Children's Harbor always held a special place in his heart.
www.bluffparkumc.org                              www.childrensharbor.com
Bluff Park United Methodist Church           Children's Harbor Family Center
733 Valley Street                                       1600 6th Ave. South
Birmingham, AL  35226                               Birmingham, AL 35233