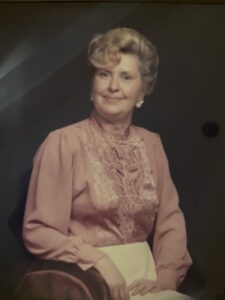 Thelma P. "Jean" Davis, age 87, of Shelby County, passed away peacefully on January 16, 2020.
A memorial service will be held at Charter Funeral Home in Calera on Thursday, January 23, 2020 at 1:00. Her cremains will be buried with her late husband Don in the Alabama National Cemetery.
Jean is preceded in death by her husband, Donald L. Davis, and numerous brothers and sisters. She is survived by her daughter, Donna Rosenmayer (Tom); grandchildren, Allee (Sam Horn) and Luke (Allison); and brothers, Calvin Patterson (Lola) and Jerry Patterson.
The family asks that in lieu of flowers, donations be made to Susan G. Komen For the Cure.